Find your perfect new home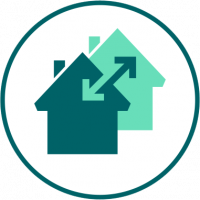 Part Exchange
Take the hassle out of moving home with no chain, no estate agency fees and a guaranteed buyer through our part exchange programme.
We know you are not buying a house to try and make a quick profit, but to appreciate a home that has been thoughtfully designed for enjoying life.
That is why every one of our homes is meticulously designed to create a functional, modern space that looks and works brilliantly both inside and out.
Our architects will maximise the available room and create the perfect shape to suit contemporary living. Using the best materials available, our homes are designed to compliment your life and ensure a characterful and comfortable place to live.
There are no standard house or apartment types because the design of each home will be dependent and specified according to the location and expected buyers - meaning you can expect bespoke property design created for your style of living.
We place a supreme emphasis on the design and quality of the developments we build and their lasting impact on the community in which they are based. Our residents can enjoy exclusive kitchen designs, boutique bathrooms and all around attention to detail and care that traditional developers cannot match. Not merely building houses but brand new communities that are an asset to their area and a delight for new residents to enjoy as their home for many years to come.